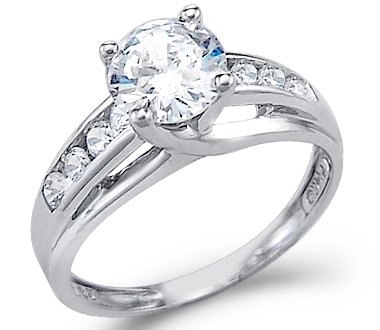 14K White Gold Round Solitaire Cubic Zirconia Engagement Ring, 1.5ct.
This brand new ring has a dazzling high polish finish. Solid and Pure 14k Gold, NOT plated. Authenticated with a 14k stamp. This ring is absolutely stunning and we are confident you will love it.
The size of the center stone is 1.0ct. , 6.5mm.

CERTAIN CONTENT THAT APPEARS ON THIS SITE COMES FROM AMAZON SERVICES LLC. THIS CONTENT IS PROVIDED 'AS IS' AND IS SUBJECT TO CHANGE OR REMOVAL AT ANY TIME.