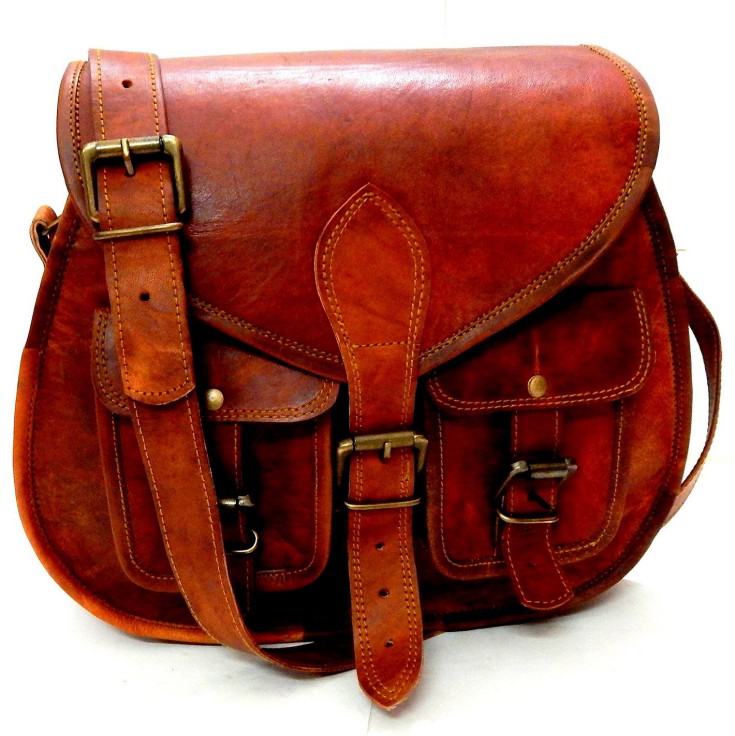 Firu-Handmade Women Vintage Style Genuine Brown Leather Cross Body Shoulder Bag Handmade Purse
Made without the use of chemicals and tanned using natural sunlight and vegetable oil, our bags mature wonderfully with age, developing a nice vintage/rugged look. This bag is made from PURE leather and lined with Strong Canvas for the super light weight and soft feel. The bag comes with a adjustable shoulder strap (maximum length of 54 inches which is long enough to be worn cross body) and good look accessories. The special features of this bag is 1 Front small pocket 3 compartment inside Zip section and adjustable shoulder strap canvas lining. Note: Leather used for these bags is still processed in the traditional ways that have been around since generations. It is not processed by use of chemicals or dyes but by traditional methods of sun tanning and hand done vegetable oil polish. The leather gets softer with age and develops a unique texture and finish. Please be aware that pure leather by its nature has some scars (due to marking/cuts on goat skin) which reconfirms that its 100% genuine and also makes every bag one of a kind and adds character to your prized possession. Because every bag is handmade from leather which is naturally tanned and not chemically treated, each bag has unique and individual markings and coloring.
For more info check here!
Style-messenger & cross body, Material – Leather , Color-brown.
Size : 13 inches Tall and 10 inches Wide.
Hassle free buckle opening.
Adjustable shoulder strap,  max. length of 54″.

CERTAIN CONTENT THAT APPEARS ON THIS SITE COMES FROM AMAZON SERVICES LLC. THIS CONTENT IS PROVIDED 'AS IS' AND IS SUBJECT TO CHANGE OR REMOVAL AT ANY TIME.