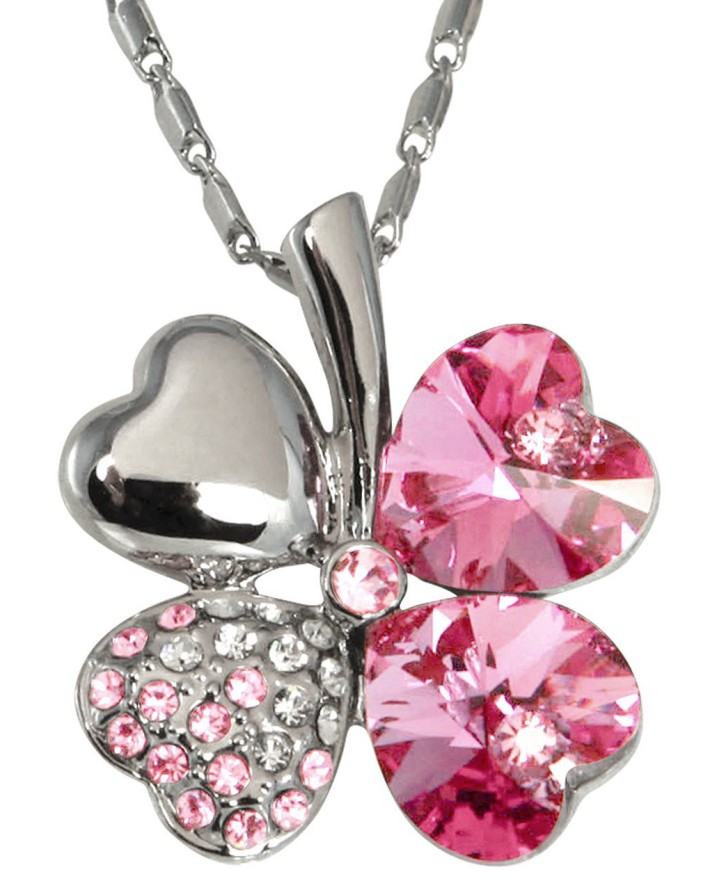 Four Leaf Clover Heart Shaped Swarovski Elements Crystal Rhodium Plated Pendant Necklace
As four leaves clover symbolizes good luck, this pendant is further designed with heart shaped leaves in wishing wearer the best luck with all your heart. It makes a perfect gift to your mother, girlfriend or kids.
This necklace is set with heart shaped authentic Swarovski Elements crystals and 23 gradual color Czech Rhinestones. With its patented cut, Swarovski Elements crystals have far more facets than other crystals to optimize the light reflecting, resulting in more brilliant crystals which is why it is more expensive than other crystals. It is made with Swarovski Elements crystals but is not a Swarovski brand jewelry.
The mirror surface on this necklace has sleek and glamorous reflections and adds a luxurious fine jewelry look. It's accomplished through intricate steps which can only be done by highly experienced workers.
For more colors check here!
Designed with 4 heart shaped clover leaves in wishing best luck to wearers with full heart
Set with heart shaped Swarovski Elements crystals and 23 gradual color Czech rhinestones
Rhodium Plated
Intricate high polish creates glamorous reflections and adds a luxurious look to this necklace
A beautifully designed jewelry package is included for an impressive gift presentation
The pendant measures 0.87 inch wide and 1 inch high and the necklace is 16-18 inches long with a 2 inch adjustable chain tail.

CERTAIN CONTENT THAT APPEARS ON THIS SITE COMES FROM AMAZON SERVICES LLC. THIS CONTENT IS PROVIDED 'AS IS' AND IS SUBJECT TO CHANGE OR REMOVAL AT ANY TIME.