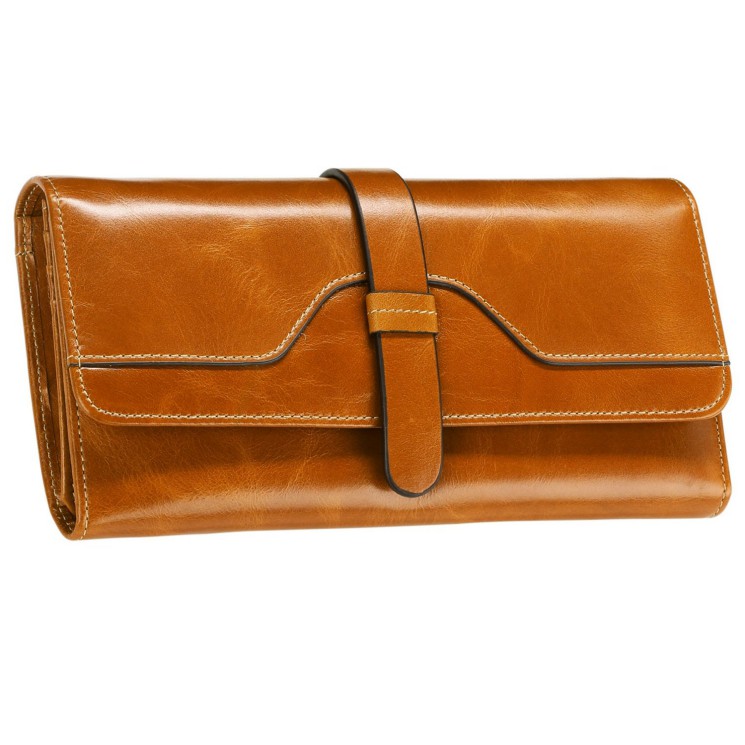 Itslife Women's RFID Blocking Luxury Leather Long Trifold Wallet Ladies Travel Clutch Purse
This trifold wallet blocks Radio Frequency Identification (RFID) signals from penetrating your wallet and scanning RFID chips located in your credit cards, debit cards, ID cards, your license, and other things you carry in your wallet, offers security and privacy at a premium. It made of luxurious leather as well as picks in go-with-everything neutral hues,with classic and vintage design, which make it suitable for daily life, make you outstanding and unique from others. Great buy for yourself or as a gift for her on Birthday, Anniversary, Mothers' Day, Thanksgiving, Christmas, and all other holidays! For more colors check here!
Advanced and Prime wax leather,feels luxury and comfortable. Looks even better after using for a long time.
This RFID BLOCKING technology tested & approved by independent LAB tests with security.Blocks RFID signals and protects your credit cards and ID cards from RFID scanners.
Multifunctional with 12-card holders, 2 large bill holders, 1 zippered pocket, 1 ID holder, 2 small bill slots.Keep your cards, cash, coins, notes, receipts, and your cell phone well organized.Ultra Practical.
Dimensions:7.5″L x 3.9″W x 1.4″H (19.2 x 9.6 x 3.5 cm) .It is just the size for a wallet you can simply hold it on hand or put it in bag.

CERTAIN CONTENT THAT APPEARS ON THIS SITE COMES FROM AMAZON SERVICES LLC. THIS CONTENT IS PROVIDED 'AS IS' AND IS SUBJECT TO CHANGE OR REMOVAL AT ANY TIME.