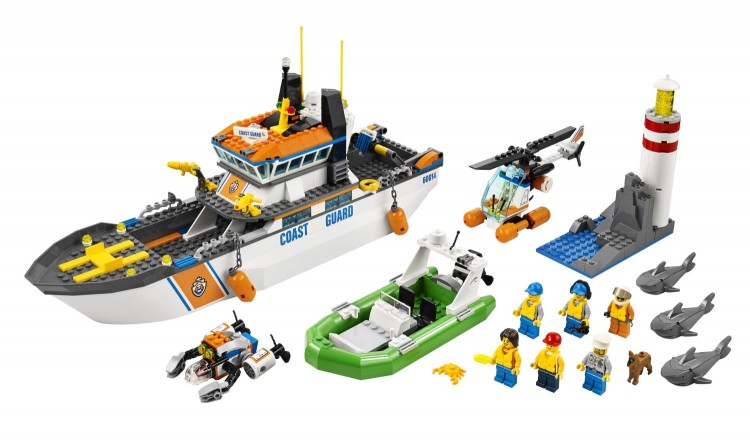 LEGO Coast Guard Patrol
Head out to the lighthouse quick with the LEGO® City Coast Guard Patrol! There's a couple stranded in a sinking dinghy and 3 sharks are swimming nearby! Launch the submarine and helicopter from the Coast Guard Patrol boat to get there fast. Rescue the couple with the life preservers, pull them into the helicopter and scare the sharks away with the water cannons! Includes 3 sharks and 6 minifigures with accessories: pilot, captain, crew member, rescuer, man and woman. 449 pcs. Ages 5 yrs +.
Features 2 water cannons, submarine launcher and radio antenna, helicopter, submarine, dinghy, lighthouse with rocks and 3 sharks
Accessories include a dog, crab, 2 life preservers, 2 life jackets, walkie-talkie, hat with headphones and an ice cream
Coast Guard Patrol boat and dinghy really float; deploy the submarine with a turning propeller; submarine measures over 1″ high, 3″ long, 2″ wide
Lighthouse with rocks measures 6″ high, 5″ wide, 2″ long; dinghy measures 2″ high, 7″ long, 3″ wide; shark measures 2″ long, 1″ wide, approx. 1″ high
Coast Guard Patrol Boat measures over 7″ high, 15″ long, 3″ wide; helicopter measures over 2″ high, 6″ long, 2″ wide
Product Dimensions:  21.3 x 11.1 x 3.1 inches ; 2.8 pounds
Origin: Imported (USA)

CERTAIN CONTENT THAT APPEARS ON THIS SITE COMES FROM AMAZON SERVICES LLC. THIS CONTENT IS PROVIDED 'AS IS' AND IS SUBJECT TO CHANGE OR REMOVAL AT ANY TIME.