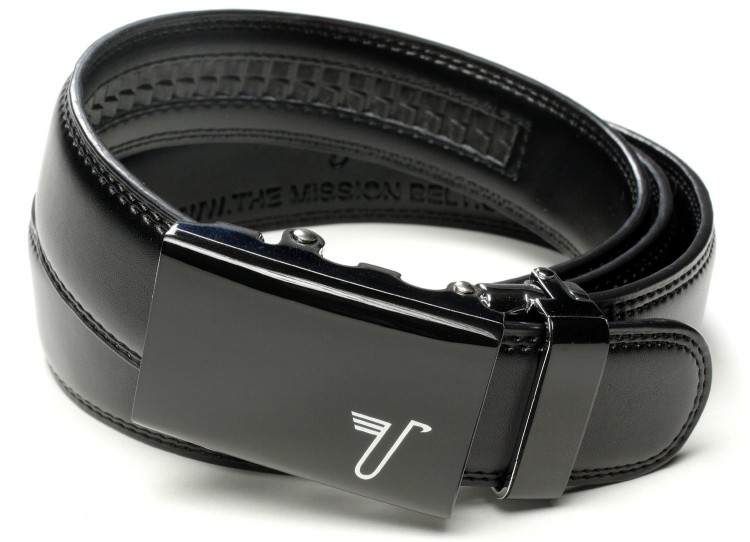 Mission Belt Men's Leather Ratchet Belt
The Mission Belt is an evolution in belt design, style and function. The belt is sleek and clean, and provides a perfect fit for everyone. With no holes to stretch or wear over time, your genuine leather belt always looks great. Not only is it the best belt ever manufactured, it's comfortably priced as well. The tip of the belt inserts into the ratchet belt buckle, where a locking mechanism holds the belt in place from the back. To remove the belt, just press the small metal lever on the bottom of the buckle, and the belt slides out of the buckle. You're no longer restricted to 1 inch size adjustments, but can get a perfect custom-fit every time. For more colors and sizing info check here!
Flat Solid Buckle closure
Genuine Leather – 1.25″ wide, smooth black leather with no needless holes to crack or wear out
A Perfect Fit Every Time – Scratch resistant, black metal ratchet buckle and 1/4″ spaced teeth in leather adjusts to the exact size you need
Removable Buckle – Handy for going through airport security, swapping buckles, and allows you to cut leather down to a smaller size if necessary

CERTAIN CONTENT THAT APPEARS ON THIS SITE COMES FROM AMAZON SERVICES LLC. THIS CONTENT IS PROVIDED 'AS IS' AND IS SUBJECT TO CHANGE OR REMOVAL AT ANY TIME.