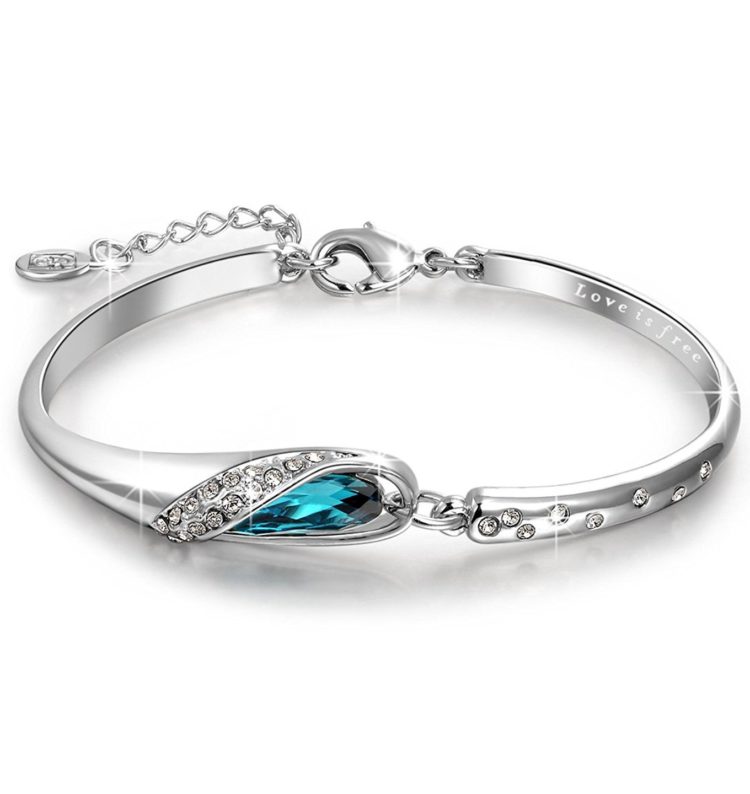 Qianse "Glass Slipper" 7 Inches Bangle Bracelet Made with Blue SWAROVSKI Crystal, Fairy tale Design
This Fairy Tale inspired bracelet is strung with a charming "little Cinderella glass slipper" that's set with blue and clear shimmering Swarovski crystals. Wear it to make every day feel magical! We like the blessing of beauty, courage, kindness and happiness, making it a perfect gift for your loved ones.
Both big and small stones are Swarovski® Crystals. Made of Zinc Alloy, Lead-Free & Nickle-Free, passed Swiss SGS Inspection Standard, no harm to health.
Comes in a fine gift box. No wrapping needed. Perfect gift for Mother's Day, Anniversary Day, Valentines Day and Birthday to your girlfriend, wife and mom.
For more info check here!
Metal: alloy
Metal weight: 13.61 Grams
Setting: Half bezel setting
Height: 2.12″
Width: 0.98″
Chain: Link Chain
Clasp: Lobster claw clasps

CERTAIN CONTENT THAT APPEARS ON THIS SITE COMES FROM AMAZON SERVICES LLC. THIS CONTENT IS PROVIDED 'AS IS' AND IS SUBJECT TO CHANGE OR REMOVAL AT ANY TIME.